Congressional Black Caucus Foundation, Inc. – LIVE! National Town Hall TONIGHT at 7pm ET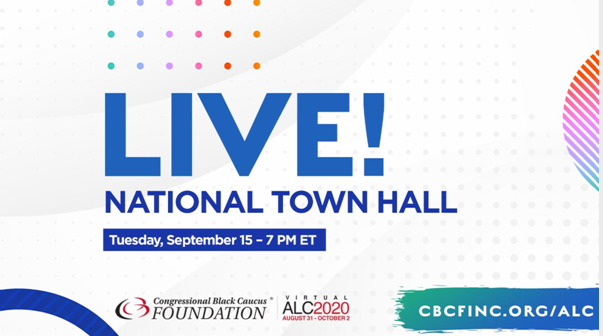 Don't miss the Virtual ALC 2020 National Town Hall: Restorative Justice for African Americans Before & After COVID-19. This event, moderated by Dr. Julianne Malveaux, will be broadcast LIVE TONIGHT -- Tuesday, September 15 beginning at 7PM EST. Opening remarks will be provided by Virtual ALC Honorary Co-Chairs Representatives Hank Johnson (GA) and Brenda Lawrence (MI).
The year 2020 has presented many challenges to the Black American community. From disproportionate infections rates of the novel coronavirus to global outcries of justice for African Americans at the hands of law enforcement, the Black community continues to wrestle with economic loss, racism, and death. As we explore the disproportionate challenges and opportunities of the current political climate leading up to the presidential election in November, this conversation will resurrect the debate on restorative justice for African Americans in the midst of a global pandemic.
Be sure to select the National Town Hall in your unique Virtual ALC schedule via: cbcfinc.org/alc and visit this site cbcfinc.org/alc to view live tomorrow evening. Or, click HERE to join in to hear our esteemed panel including:
-Cory Booker, U.S. Senator
-Alicia Garza, Co-Founder, Black Lives Matter and Principal, Black Futures Lab
-Opal Tometi, Co-Founder, Black Lives Matter
-Darrick Hamilton, Henry Cohen Professor of Economics and Urban Policy, The New School
-Khalilah Brown-Dean, Associate Professor & Senior Director for Inclusive Excellence, Quinnipiac University
-Damon Jones, Chief Communications Officer, Procter & Gamble
The Virtual ALC 2020 LIVE National Town Hall is presented by Procter & Gamble. To join the live conversation online, use the hashtag #VirtualALC on Twitter.
Best regards,
The CBCF
For technical assistance, contact: registration services at 847-620-4497 or cbcf_registration@goeshow.com.
---
Join the conversation online! Follow @CBCFInc on social media and use #VirtualALC in your posts. 

previous story