NJSBDC – this is how your small business can make $$$ from GOVERNMENT CONTRACTS?


How to acquire BIG contracts with the federal government!
---
Small businesses play a very important role in the federal procurement system.  Every year, the federal government purchases over half a trillion dollars' worth of goods and services from the private sector. However, according to data, the pool of small business contractors is extremely small and shrinking which is an issue the federal government is trying to resolve. This means more business opportunities for small business owners! Click "Tickets" for Complimentary Tickets 👇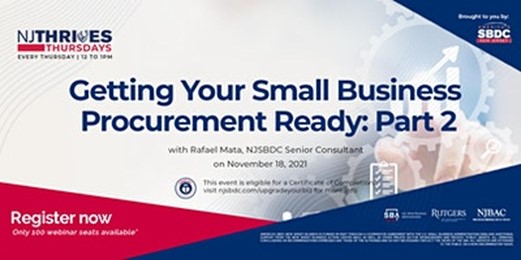 Thu, Nov 18, 2021 12:00 PM EST
Getting Your Small Business Procurement Ready: Part 2

---
What is NJ Thrive's Thursdays?
NJ Thrive's Thursday's is a weekly webinar series brought to you by the NJSBDC where. Business Consultants speak with industry experts about everything small business in New Jersey. To view our calendar of events, click here.
---

For any questions or concerns regarding NJ Thrive's Thursdays or Upgrade Your Business Webinars, please reach out to us at cares.admin@njsbdc.com.
---
America's Small Business Development Centers - New Jersey (NJSBDC)
1 Washington Park, Newark, NJ 07102
previous story