COUNTY OF ESSEX SMALL BUSINESS DEVELOPMENT AND AFFIRMATIVE ACTION / Families First Coronavirus Response Act (FFCRA)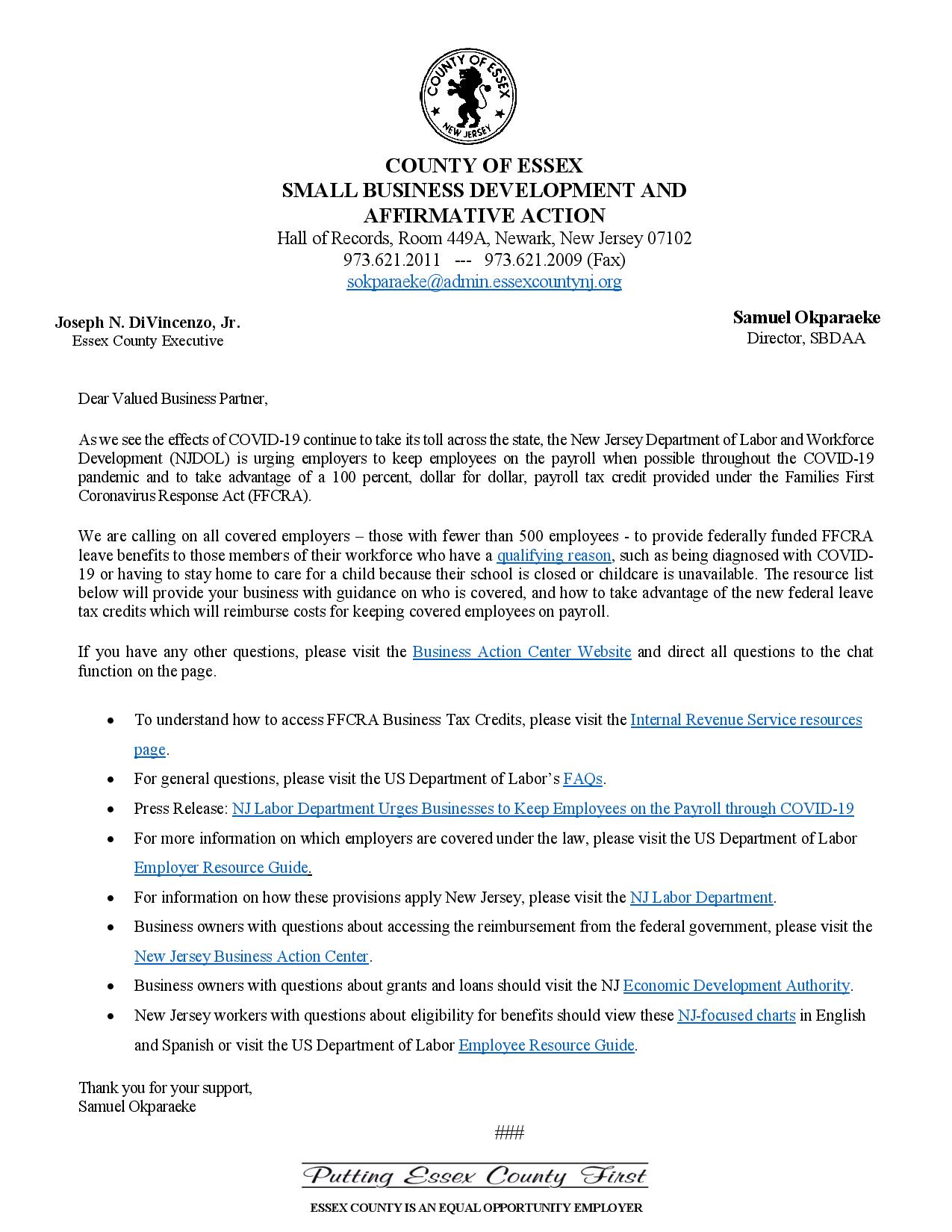 Dear Valued Business Partner,
As we see the effects of COVID-19 continue to take its toll across the state, the New Jersey Department of Labor and Workforce Development (NJDOL) is urging employers to keep employees on the payroll when possible throughout the COVID-19 pandemic and to take advantage of a 100 percent, dollar for dollar, payroll tax credit provided under the Families First Coronavirus Response Act (FFCRA).
We are calling on all covered employers – those with fewer than 500 employees - to provide federally funded FFCRA leave benefits to those members of their workforce who have a qualifying reason, such as being diagnosed with COVID-19 or having to stay home to care for a child because their school is closed or childcare is unavailable. The resource list below will provide your business with guidance on who is covered, and how to take advantage of the new federal leave tax credits which will reimburse costs for keeping covered employees on payroll.
If you have any other questions, please visit the Business Action Center Website and direct all questions to the chat function on the page.
-To understand how to access FFCRA Business Tax Credits, please visit the Internal Revenue Service resources page.
-For general questions, please visit the US Department of Labor's FAQs.
-Press Release: NJ Labor Department Urges Businesses to Keep Employees on the Payroll through COVID-19
-For more information on which employers are covered under the law, please visit the US Department of Labor Employer Resource Guide.
-For information on how these provisions apply New Jersey, please visit the NJ Labor Department.
-Business owners with questions about accessing the reimbursement from the federal government, please visit the New Jersey Business Action Center.
-Business owners with questions about grants and loans should visit the NJ Economic Development Authority.
-New Jersey workers with questions about eligibility for benefits should view these NJ-focused charts in English and Spanish or visit the US Department of Labor Employee Resource Guide.
Thank you for your support,
Samuel Okparaeke
###
previous story