The governor said the $250 million in funding will be applied in four different ways.
First, $50 million of the money will be used to provide restart grant funds for childcare providers who will have reopened by Oct. 1.
"This will help keep more childcare centers open and increase availability of childcare options for parents," Murphy said.
On top of the restart grant funds, childcare providers will also receive a subsidy grant of $75 per a subsidy-eligible child per month from September to December. That part of the initiative is $30 million.
"That's to help ongoing increased costs faced from the pandemic," Murphy said.
The third part of the initiative, another $20 million, will provide full-time subsidies for working families making less than 200 percent of the federal poverty level who are subsidy-eligible and require additional childcare for remote learning during the school day due to COVID-19.
The biggest part of the initiative—$150 million—will establish tuition assistance for families who are not eligible for the aforementioned subsidy but who earn up to $75,000 a year and need supervision for their school-aged children during the school day.
"This broad initiative has been designed to address the issue of childcare from multiple directions," Murphy said. "The two big ones are our childcare providers need assistance to remain open and, secondly, our families need assistance to afford new and increasing expenses."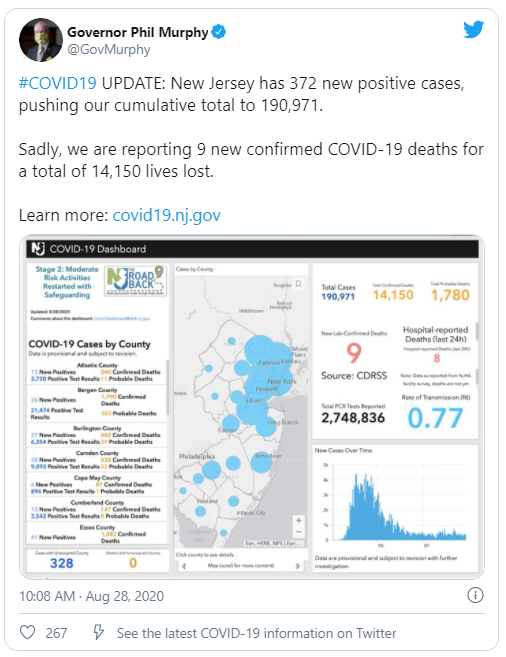 The governor also announced new coronavirus numbers at his briefing on childcare funding.
He said there were 372 new coronavirus cases in the state, bringing the total number of confirmed cases to 190,971.
He said there were nine more deaths. The state's number of confirmed deaths is now 14,150, not including another 1,780 probable deaths.
There were 436 patients hospitalized with confirmed or suspected COVID-19; 83 of them were in intensive care and 30 were on ventilators.
Murphy said the positivity rate in the state was 1.52 percent of people tested, while the rate of transmission was down to 0.77.
A transmission rate above 1 indicates that for every infected person, the virus is spreading to at least one other person. The transmission rate was over 5 in March and inched above 1 for about a week earlier this month before dropping back down.